WASTE SERVICES
Residential
Whether you are looking for basic service at the lowest price or in need of extra services, VVW can meet your needs with either monthly or quarterly trash removal and optional recycling service for those who recycle at Eagle County Recycling Centers.
Other services available include:
On call service – for when you've cleaned out the garage and need extra service.
Valet Service – our carefully vetted drivers can empty your trash directly from your garage or storage area and return your empty cans
Bulk item and junk removal – we can help take away old mattresses, furniture and other items you may no longer need often times finding a new life through our partnership with the local Salvation Army and Bright Futures Foundation.
Lawn waste removal – leaves, grass, shrubbery, etc.
Construction debris removal – whether you are finishing your new home or doing a remodel, VVW can help take away your construction debris.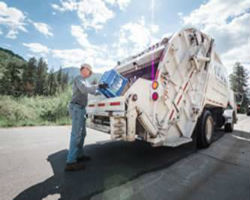 Please visit our Collection Calendar for weekly pick up schedule and any holiday schedule updates.
Watch for our white trucks and friendly drivers in your neighborhood! Call today to sign up for reliable service and save money.
Commercial
Vail Valley Waste provides a range of services and resources tailored to meet your business' needs and budget. Whether it's a onetime bulk item pick up or regular commercial trash and recycling service, VVW can meet your needs consistently and cost effectively.
Taking into account the seasonal trends in the valley we can easily adjust the frequency of waste removal for your business throughout the year. VVW staff will track your trends in usage and will gladly adjust container volumes throughout the year to ensure efficient collection at the lowest possible price.
Give us a call for a free quote or site visit.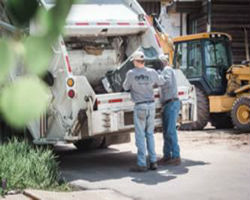 Construction
Conveniently sized and wheeled, our three yard containers are available for construction sites and allow for mobility and flexibility on construction sites with limited space. Other dumpster sizes and options are also available. Pick up is available on-call to allow us to best meet your project needs.
Give us a call for a free quote or site visit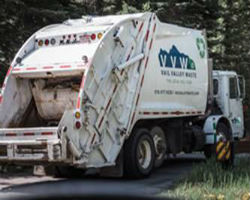 Advantages of Recycling Waste in Avon, Edwards & Vail, CO
Preserve Natural Resources 
Natural resources across the world are growing scarce by the day, causing large scale deforestation. Waste recycling services reduces the volume of garbage ending up at landfills and other dumping sites. It prevents many health hazards and prevents overflowing landfills and incinerators. Waste recycling is good for the environment and conserves natural resources for future generations.
Reduce Pollution 
Recycling waste lowers pollution levels and improves air quality. Modern manufacturing processes rely on sourcing raw materials. It is true for all industries and leads to significant pollution and depletion of natural resources. Effective recycling and waste management enable the reuse of existing materials. It reduces the contaminants and polluting agents in the atmosphere.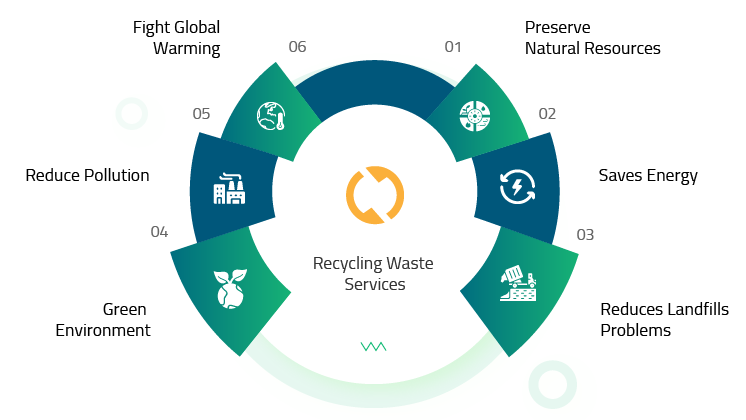 Saves Energy 
Waste recycling has a ripple effect on many harmful practices, such as excess energy consumption. The logic holds that the creation of new material leads to more energy consumption and hence energy production to sustain it. It eventually leads to the depletion of precious natural resources. Waste recycling saves energy consumption and overall costs by reusing material.
Green Environment 
The biggest benefit of waste recycling is the lasting positive impact it has on our environment. New raw materials need new industries to be created, leading to pollution and resource shortages. Waste recycling in Avon, Edwards & Vail, CO is eco-friendly and conserves natural resources. Businesses around the world are embracing waste recycling to create a greener and sustainable planet.
Resource Depletion Rate is Reduced 
Uncontrolled population explosion and their needs in Avon, Edwards & Vail, CO, have led to an alarming decline in resources. Wood, coal, and petroleum, which we took for granted a few decades ago, have depleted substantially over the years—reusing materials by recycling slows down this depletion and helps us conserve natural resources. Future generations can enjoy a trouble-free existence.
Recycling helps to fight global warming 
Effective recycling and creating public awareness help fight the threat of global warming. Recycling lowers the emission of greenhouse gases into the atmosphere. These harmful gases raise the average global temperature threatening our ecosystem. Burning waste also causes the temperature to shoot up. Recycling waste reduces these harmful emissions and keeps global warming at bay.
Reduces Air and Water Pollution
Pollution resulting from relentless manufacturing has worrisome implications on air and water quality. Sourcing of raw materials and disposal of wastage during manufacturing hurts the ecosystem. Chemicals and other pollutants are released in water bodies and air, irreversibly polluting them. Recycling encourages proper disposal of harmful pollutants such as plastics and industrial chemicals.
Reduces Landfills Problems
Landfills are one of the leading causes of increased pollution and health hazards around the world. Irresponsible waste disposal practices lead to overflowing landfills. It is a huge cause of concern and causes pollution, health hazards, and the spread of diseases. Often landfills become problems due to large amounts of waste material that are non-biodegradable.
Energy used is less 
Waste recycling, when done right, consumes relatively less energy and is cleaner and greener. Raw materials are essential for producing new materials for human consumption. Transport and processing of these materials consume copious amounts of energy. This energy is saved when we recycle existing materials. It saves cost, energy, and labor, leading to sustainable living.
Are you looking for a Waste Services Company in Avon, Edwards & Vail, CO? Then get in touch with us to know more.
Tips to Choose the Best Waste Recycling Company in Avon, Edwards & Vail, CO
Ask Friends or Family 
Often inquiring with friends and family about waste disposal options they have used is a great idea. It gives you firsthand information about the company and the quality of their services. You can get details about the safety and other practices for waste disposal and recycling. Go with a company in Edwards & Vail, CO, that comes highly recommended.
Check Credentials 
Perform a background check on the company you choose by reading online reviews and testimonials. You must inquire about their certifications and permissions granted by legitimate government agencies. Being a certified waste services company is difficult, and it demonstrates the company's professionalism. For longer partnerships, it is advisable to choose a company with globally recognized certifications.
Pricing 
Pricing is a key factor to consider if your business plans to partner for long-term waste recycling. Inquire at one or more companies to narrow down a company that offers competitive prices. They must be paid well for your materials and charge a nominal service fee for their services. Ensure that the company has all the required certifications and good customer support teams for Waste Services in Avon, Edwards & Vail, CO.
Don't select a less experienced company 
The waste recycling Services industry in Edwards & Vail, CO, is complex and thrives on experience. Avoid choosing companies that are new to the field. They may not have the required experience in waste recycling or the necessary certifications. An inexperienced company may cause more harm than good while getting rid of the waste on your property.
Check if they protect your data 
Inquire about data security and privacy protection policies of the waste recycling company. Modern waster largely includes e-waste, such as laptops, hard drives, and other storage devices. These may still contain personal data that can be salvaged. Ask the company for the procedures they follow while disposing of or recycling e-waste to ensure data privacy.