RECYCLING
Vail Valley Waste Recycling Program.
In order for Vail Valley Waste to maintain the most efficient processing facility AND keep recycling programs available, it is important for our customers to know what is acceptable and what is NOT. One example of what is NOT acceptable would be ANY metal other than Aluminum and Tin cans.Vail Valley Wastes  does NOT accept steel items such as a horseshoe, fencing, or other steel items.
Here is a complete list of acceptable items that can be mixed "Altogether" in one container:
* Newspaper (including inserts) * Corrugated Cardboard (FLATTENED) * Office Paper
* Mixed Paper * Chipboard (Cereal and Tissue Boxes) * Brown Paper Bags
* Aluminum (do not crush) * Tin Cans – No "other" steel * Plastic Milk Jugs
* Empty Aerosol Cans * Detergent Bottles (Tide) * Bulk or Junk Mail
* Magazines
* Aseptic Packaging (Milk and Orange Juice Cartons)
* Mixed Rigid Plastics (large lawn furniture or large children's play toys, waste or laundry basket)
* Plastic (#1 – #7) Plastic Bottles or Tubs – NO PLASTICS MARKED "PLA"
* StyrofoamTM IS accepted.
You No Longer Have to Sort – To prepare your items to be recycled, please rinse out containers to remove as much of the food residue as possible. No need to discard plastic lids and caps (leave them on the bottle) on plastic bottles but do discard pumps on bottles. In addition, please make sure there are NO PLASTIC BAGS mixed in your recyclables.
Here are some more helpful hints when deciding whether you can recycle the item:
• Plastic — Only recycle plastic bottles and tubs. This is typically a #1 through #7 plastic and only pertains to the bottles and tubs. Please do not add clamshell containers or #7 PLA compostable plastics. No need to remove the screw tops on the bottles. In addition we accept the larger what are known as "mixed rigid plastics." These are the larger toys and buckets.
Here are some examples of plastics that are okay to recycle:
* Soda, water, and juice bottles
* Liquid detergent and other cleaning supply bottles
* Condiment bottles (ketchup, mustard, etc)
* Milk jugs and orange juice jugs
* Shampoo bottles and liquid soap dispensers
* Peanut butter jars (please rinse out)
* Butter and Yogurt tubs
* Large toys (no metal or wheels)
* Plastic Lawn furniture
* Plastic buckets (with metal handles removed)
* StyrofoamTM
Plastic Items NOT accepted:
* NO PLASTIC BAGS
* NO clamshell or "to go" plastic containers
* NO plastic plates, forks, spoons or knives
* NO #7 PLA compostable containers
* NO six pack holders
* NO plastic syringes (NEEDLES)
• Aluminum or Tin Cans ONLY – Please make sure any aerosol cans are totally empty. This would include containers such as shaving cream and hairspray cans. Labels are okay.
NO OTHER STEEL ITEMS.
* Cardboard – Make sure to flatten cardboard. No wax-lined cardboard is accepted in the
recycling mix. Wax-lined cardboard can be composted in a different service.
* Brown paper bags – NO PLASTIC BAGS.
* Chip or Paperboard – This type of material includes items such as:
* Cereal boxes
* Soda carrier boxes
* Tissue holders
* Other food boxes such as popcorn or microwave food boxes (not the cooking sleeves)
* Newspaper – We accept the entire newspaper including the inserts and ads
* Office Paper – All types of office paper are accepted. If you can tear it, we can take it. All colors are fine as well. Don't worry about paperclips, staples, tape, and sticky notes. These are all okay in the mix. NO TYVEK (polyethylene fiber) plastic, over-night mailing folders. NO SHREDDED PAPER.
* Bulk or Junk Mail – This material is okay as well. Do not worry about any stamps or staples or sticky notes in this material, either. Remember, if you can tear it, we can take it. Again, NO TYVEK (polyethylene fiber) plastic, over-night mailing folders.
• Magazines & Catalogs — Please discard plastic bags around these items and items such as CDs and magnets. Everything else is okay.

WE DO NOT ACCEPT ANY HAZARDOUS OR BIO-HAZARDOUS WASTE PRODUCTS
SUCH AS NEEDLES AND SYRINGES (NO!) AS WELL AS USED MOTOR OIL PLASTIC
BOTTLES or PESTICIDE PLASTIC BOTTLES.
WE DO NOT ACCEPT USED PAPERTOWELS AND NAPKINS.
WE DO NOT ACCEPT ANY CERAMICS OR PYREX CONTAINERS ALONG WITH NO
WINDSHIELD GLASS OR WINDOW GLASS
Why are we the Best Recycling Services in Vail, Avon & Edwards, CO?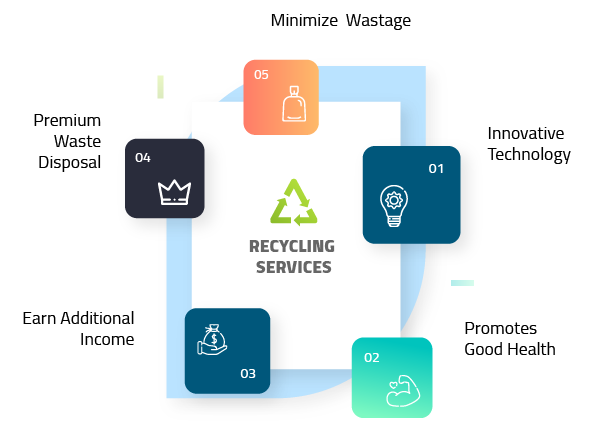 Latest Technology
We are global leaders in advanced waste management and environmental reporting in Vail, Avon, CO. Our waste management technology and equipment are superior to other service providers. We invest in regular upgrades and maintenance to ensure the latest technology is used for waste management. We are a one-stop-shop for all your waste management needs in Vail, Colorado.
Long Term Relationships 
Our clients place immense trust in us and rely on our expertise for their waste management. We have years of proven experience working with some of the most respected companies in Edwards & Avon, CO. We build a long-lasting and fulfilling relationship with all our clients. Our excellent Recycling Services teams ensure clear and regular communication with clients.
ROI 
You enjoy efficient service and complete peace of mind with our waste management services. Waste management is a great way to get a healthy return on your investment while caring for the environment. It keeps your property clean and promotes good health. Our Recycling Services reduce landfill waste and increase the overall value of your property.
Valuable Remarketing Opportunities 
Efficient and clean waste disposal increases remarketing opportunities for your business. It helps the environment and promotes a culture of reuse. It provides a convenient and profitable way to earn an additional income. Waste management practices improve the look and surroundings of your property. It enhances its aesthetic and real estate value over time.
Quality 
We never compromise on quality when it comes to waste disposal and recycling. We use only the best equipment and adhere to the best practices prevailing in the industry. We aim to build long-lasting client relationships that deliver unmatched quality of services over time. We offer premium waste disposal services at an affordable price.
We follow the regulations 
Vail Valley Waste is one of the most prominent and respected waste recycling service providers in the region. We strictly adhere to local health regulations and guidelines stipulated by the government. Our team at Edwards, Avon, CO, will ensure that all safety procedures are in place during waste collection and recycling. Our staff is well-trained to follow all the necessary regulations during recycling services.
Efficient Services 
Our operations are clean and efficient. We pride the quality of our waste management services and its positive impact on the environment. We use superior equipment and trained personnel to minimize wastage and delays. Our services are always on time and are priced competitively. We follow all health and safety protocols for efficient operation.
We are Innovative 
Innovation and using the most advanced technology is ingrained in our company culture. We are constantly identifying creative and smart ways to do things better. Our innovative approach to waste management and recycling solves many common problems. Our solutions are engineered for the benefit of the environment. Our innovations have won accolades across the industry.
Expertise 
Vail Valley Waste is one of the leaders in doing waste management and recycling services in the region. We have years of experience in delivering quality waste management services. Our clients in Edwards, Avon, CO, love us for our efficiency and timely service delivery. Our experience enables us to use the best technology and techniques for a positive waste management experience.
Core Values 
Our core values are strongly embedded in our company culture and prevail in everything we do. Our values are honesty, integrity, and trust. We never fall back on our core values and adhere to them always to provide world-class services. We are transparent about our services and pricing and never overcharge customers for services.
Are you looking for a Recycling Services in Vail, Avon, CO? Get in touch with us to know more.