FLEET
Meet Our Growing Fleet
Watch for Vail Valley Waste's white vehicles as they provide waste and trash services in your neighborhood and throughout the Vail Valley.
BRUNO
If you live in Vail, Avon, Edwards, Eagle, Gypsum or Dotsero you will likely see Bruno providing trash removal in your neighborhood! Bruno is a 2005 Auto Car 20 Yard Rear Load Truck that has a big, but fuel efficient 300 horsepower Cummins diesel. He was the first fleet purchase for Vail Valley Waste as he is reliable, big and strong. Despite his tough looking flat nose, Bruno has a softer side and also enjoys participate in recycling services in Vail, Avon, Edwards, Eagle, Gypsum and Dotsero because he loves the environment and helping to keep our county clean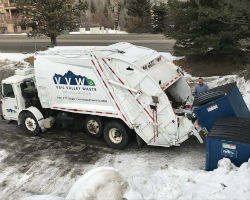 GABBIE
Gabbie is a 2006 International 20 Yard Rear Load Truck fitted with a cart tipper for efficiency. Her smooth-driving smaller 240 horsepower engine and petite statue allow her to fit into tight locations to provide trash service without damaging vehicles and structures in your communities. Watch for Gabbie as she carefully provides waste and recycling services in your neighborhood.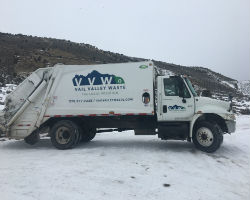 TUNDRA
Tundra, the trash Toyota, is a smaller but important member of our team that helps as we sort and handle your recycling and get it to the Eagle County Materials Recovery Facility for re-use. Tundra also makes visits to remote locations for trash and recycling services for our rural community members. Finally, Tundra provides waste services for larger items that Bruno and Gabbie cannot accommodate. If you have large items you need help with, call our offices and Tundra will come provide trash pickup for you!
DOTY
Doty is the team's fuel efficient run about for customer service visits and part pick-ups when her bigger cohorts need repairs and help. Watch for Byron and Doty and give them a wave. They are always happy to talk trash and recycling with you!