WASTE SERVICES
Residential
Whether you are looking for basic service at the lowest price or in need of extra services, VVW can meet your needs with either monthly or quarterly trash removal and optional recycling service for those who recycle at Eagle County Recycling Centers.
Other services available include:
On call service – for when you've cleaned out the garage and need extra service.
Valet Service – our carefully vetted drivers can empty your trash directly from your garage or storage area and return your empty cans
Bulk item and junk removal – we can help take away old mattresses, furniture and other items you may no longer need often times finding a new life through our partnership with the local Salvation Army and Bright Futures Foundation.
Lawn waste removal – leaves, grass, shrubbery, etc.
Construction debris removal – whether you are finishing your new home or doing a remodel, VVW can help take away your construction debris.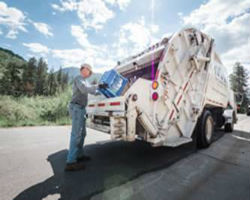 Please visit our Collection Calendar for weekly pick up schedule and any holiday schedule updates.
Watch for our white trucks and friendly drivers in your neighborhood! Call today to sign up for reliable service and save money.
Commercial
Vail Valley Waste provides a range of services and resources tailored to meet your business' needs and budget. Whether it's a onetime bulk item pick up or regular commercial trash and recycling service, VVW can meet your needs consistently and cost effectively.
Taking into account the seasonal trends in the valley we can easily adjust the frequency of waste removal for your business throughout the year. VVW staff will track your trends in usage and will gladly adjust container volumes throughout the year to ensure efficient collection at the lowest possible price.
Give us a call for a free quote or site visit.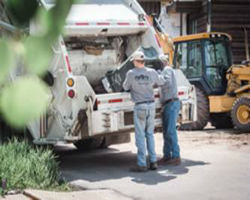 Construction
Conveniently sized and wheeled, our three yard containers are available for construction sites and allow for mobility and flexibility on construction sites with limited space. Other dumpster sizes and options are also available. Pick up is available on-call to allow us to best meet your project needs.
Give us a call for a free quote or site visit